END Your Excruciating Ankylosing Spondylitis Pain and Suffering
Discover the Ankylosing Spondylitis Diet, Tools, and Info you Need for Total Ankylosing Spondylitis Remission

END Your Ankylosing Spondylitis Pain and Suffering
Discover the Ankylosing Spondylitis Diet & Info you Need for Total Remission
Dear AS Sufferer,

My name is Micah Cranman, and I have Ankylosing Spondylitis.

When I was finally diagnosed with AS (after 10 years of symptoms), and my doctor told me there was no cure, and all traditional treatments could do was suppress the pain, I was devastated.

I felt like my life was OVER, that no matter how hard I fought or what I did, my dreams were destroyed.


I felt like some thief in the night had come in the back door and stolen my life.


You know EXACTLY what's it's like.

You're sick and tired of being in constant pain, never knowing when the next big flare-up will be, wondering what Ankylosing Spondylitis will prevent you from doing, how AS will stop you from having the life you want.


The good news is that it WON'T… Not if I have anything to say about it!


After literally HUNDREDS and HUNDREDS of hours of research (what can I say? I'm stubborn), scouring research paper after research paper, I made a discovery that set me free from the prison of pain Ankylosing Spondylitis had put me in — and it will set you free, too.
By changing your diet, many people can put their AS in remission -- maybe even you
But why hasn't your doctor told you this? Doctors depend on scientific data and studies, and that's a good thing.

Unfortunately, because pharmaceutical firms pay for most studies that doctors use to determine treatment options, there are very few studies for anything other than the drugs they prescribe.

And if there's no study, they probably won't recommend it, because if they do, they're exposed to the risk of a lawsuit. For most doctors, a malpractice suit is so scary that they almost HAVE to stick to the "norm."
Now, I'm not a doctor, but I can almost guarantee you that I've spent more time learning about Ankylosing Spondylitis — how the disease works, and how to STOP it — than most doctors.
For literally months on end, researching how to get out of pain from AS was the only thing I did.

And now I know what works because I've tested it on my own body.

Even though I'm now pain free and the disease no longer plays a role in my life, I was so frustrated that it took me so long to find the information I desperately needed, I wrote a book on treating treating Ankylosing Spondylitis through diet, supplements, and if it's appropriate, medical intervention --in other words, the book I wish I'd had.

This is the Ankylosing Spondylitis diet book I had been looking for all that time: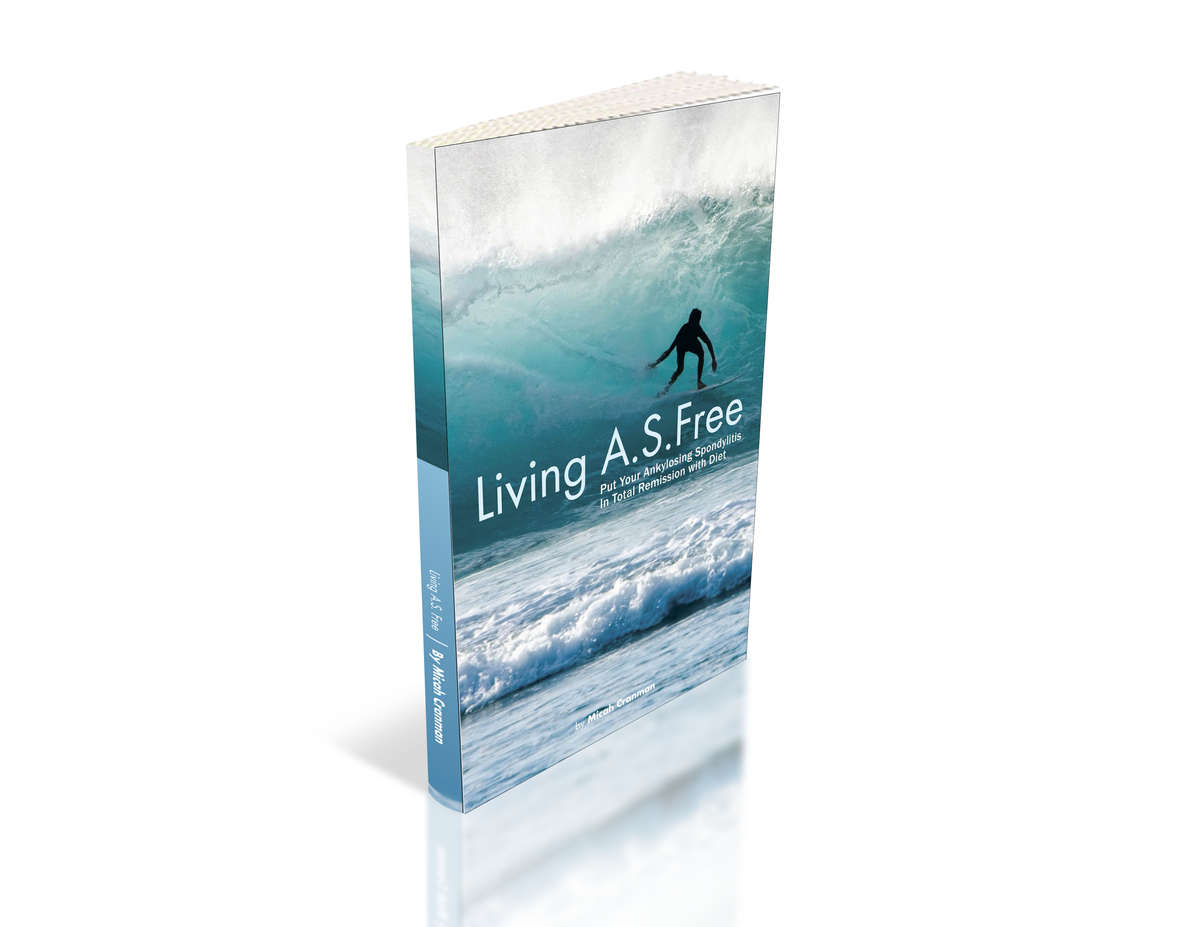 Put Your Ankylosing Spondylitis
in Total Remission With Diet
The diet & other information I've compiled in this book is the same information I used to become pain free and get my life back.


And it's not a "traditional" type of diet where you worry about calories and how MUCH food you're eating.

It's about changing your overall thinking with food, focusing on eating more of certain types of foods, and less of others — the foods which are causing the biological process that's at the root of your pain.
But is this Ankylosing Spondylitis Diet easy to follow? Will I still be able to enjoy great food?
Quite simply, yes and yes!

I think the diet outlined in my book is more decadent, rich, and satisfying than most so-called "healthy" diets. You can eat in ways you never dreamed while putting your Ankylosing Spondylitis in remission. Many achieve a more healthy weight, too, without even trying!

Still, it's a change from "normal" western eating habits, so you'll need some new recipes.
Don't worry, I've got you covered with an extraordinary cookbook that will have you knee deep in delicious food.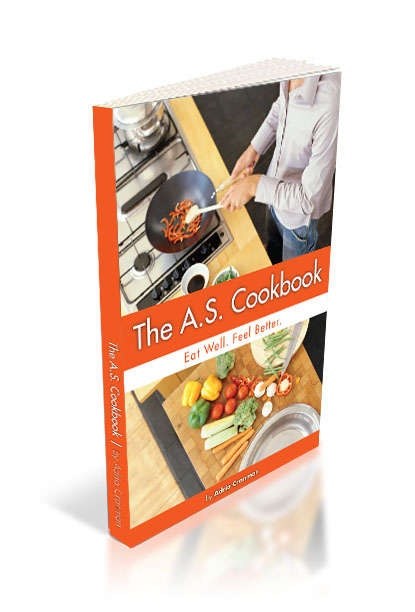 The Ankylosing Spondylitis Cookbook
It's 140 pages of culinary excellence, included on every order, so that you have not only the fundamental understanding of WHY you need to follow the diet, but also all the TOOLS you need to stick to it, and enjoy yourself doing it!


Just so you can see what types of foods to expect, here's a TINY sample of my absolute favorite foods / meals from this incredible cookbook that I eat on a regular basis.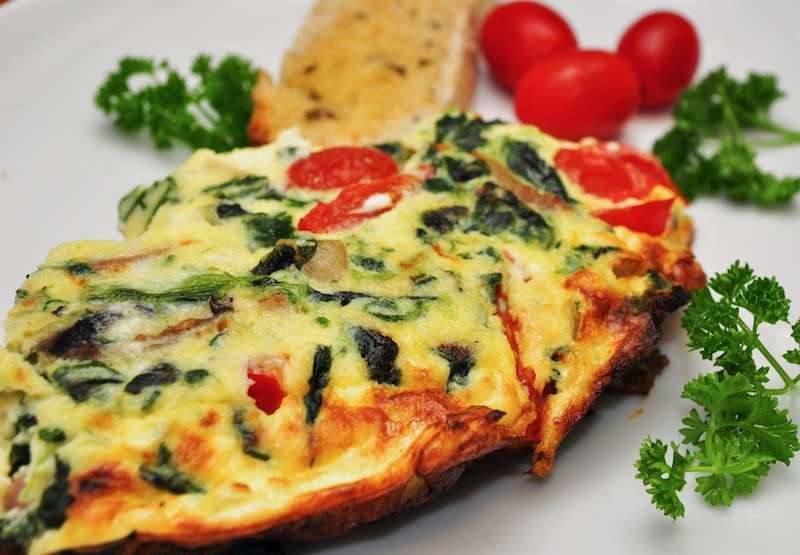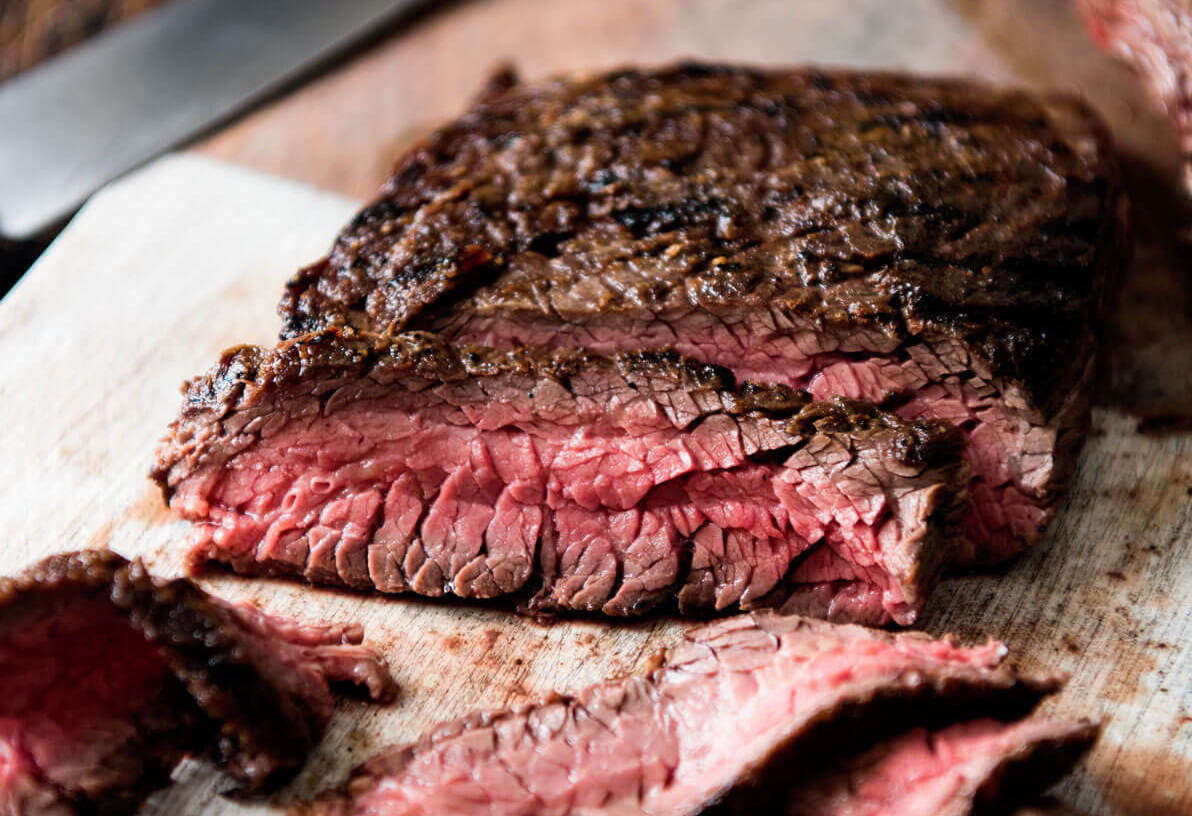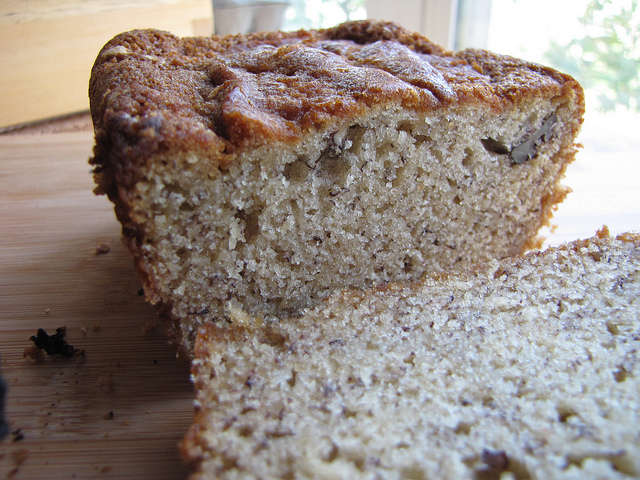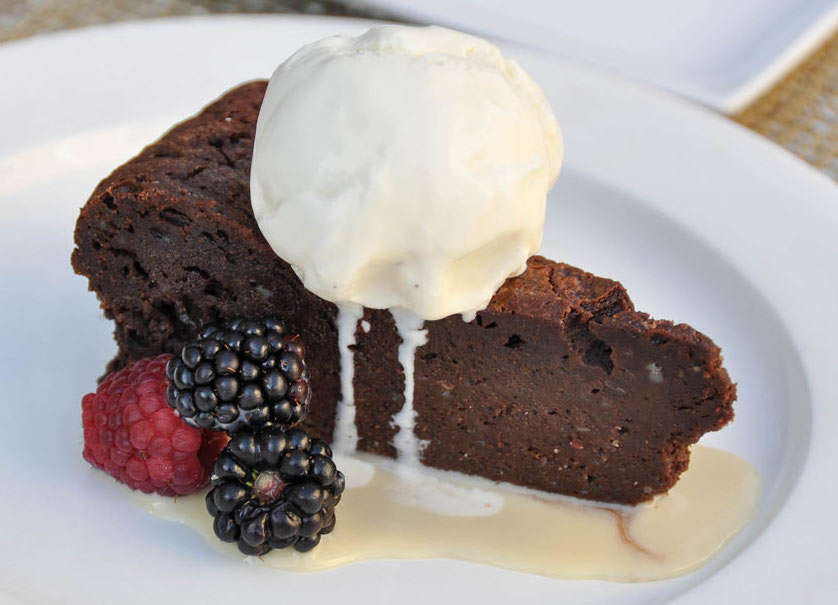 But this isn't just a book about diet and an AWESOME cookbook to go with it — it's SO MUCH MORE.
My book not only shows you how to put your disease in remission; it gives you a comprehensive resource to refer to on every aspect of the condition.
Here's what you'll learn about healing your Ankylosing Spondylitis:
First and foremost, the diet that could change everything for you, the exact Ankylosing Spondylitis diet that put my AS in remission in just weeks — plus the resources and information you need to make it work (including a simple test you can perform on any food to make sure it doesn't contain what's making you sick).



The theory behind the diet and the disease. In layman's terms, I explain exactly how we believe the disease works, and why changing your diet makes all the difference. It's important for you to know.



An exciting new medicine option that "boosts" the effectiveness of the diet AND your endorphins. Your doctor won't tell you about this – he or she probably doesn't even know it exists!



An overview of "traditional" and "alternative" treatment options and medicines. I explain how each medicine and treatment option affects your body and the disease, why some work and some don't, and the risks of each. You deserve ALL the information.



Plus, a bonus theory for curing AS. If you could fix this one thing, you wouldn't even have to worry about your diet. (Quick disclaimer: I'm in remission, but not cured yet, so I include this theory as a bonus ONLY because I haven't proven it with my own body yet. But I just had to include the information because it's so darn exciting!)



Tons of references so you can be confident in the information. I cite study after study supporting the ideas and concepts in my book. What you'll learn is based on scientific fact and research that you can review for yourself.
PLUS A BONUS: Over 20 FREE Ankylosing Spondylitis Stretching & Exercise Videos!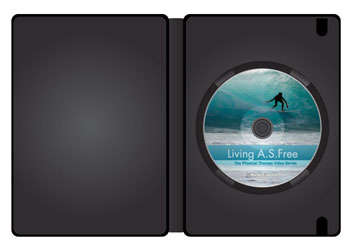 When I finally became pain free, I was weak and stiff. I needed exercises that would "free" my muscles and get me strong again. You will too.

So I'm including videos of 20+ simple and gentle "stretching" and "muscle activation" exercises. Using these exercises has helped me to relax and release old knots and develop strength.

Ankylosing Spondylitis exercises are a lifesaver if you're in pain now and want some immediate relief without drugs. Incorporating these into your treatment will help to speed your recovery while the diet is beginning to work.
BONUS #2: The Complete, Unabridged Living A.S. Free Book in MP3 Audiobook Format!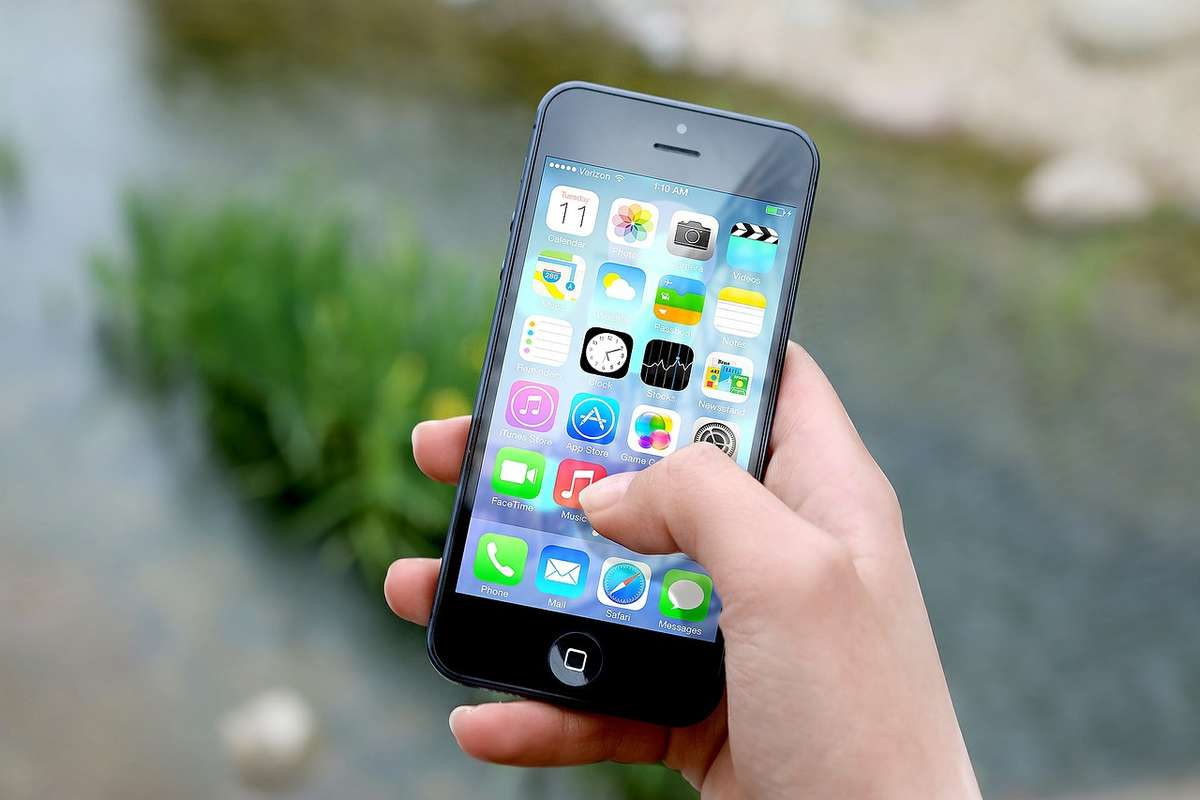 These days, everyone lives life on the go, and sometimes it's hard to take the time to sit down and read a book.

That's why I've created and now include a complete, unabridged audiobook version of my book that you can download put on your iPhone or Android to listen to on the go — in your car, on your commute, or even at home!
But enough about me and my book... here's what my readers have to say
I just wanted to say THANK YOU!!!!!! I bought your book for my husband about a week ago and I have been keeping him on the diet and he is already moving around like he did a couple years ago before his AS got really bad.
He isn't saying much but I can tell he feels better because he's not as grumpy!

He even helped me bring in the groceries last night, something he hasn't done in several years. I can't wait to see how he is doing in a few weeks!

- Crystal Summers
Thank you micah! Your book rocks!!! I was really skeptikal at first because i have tried other diet ideas for arthritis stuff in the past and they havent worked not even a little but yours is already helping after like 4 days and i havent even been 100% strict not eating [offending food]. I will let u know how I am doing…

[Got this message 3 weeks later...]

SWEET!!!! I can run again! for like the last year I coludnt even jog becuase it hurt so bad in my butt but yesterday i went and played ultimate frisbee with my friends and i didn't even think about my AS. Thank you so much man!!!

- Jessie Goldfarb
Micah:

Many thanks, mate, for answering my incessant questions. I know you've likely answered al of them in the book already, but perhaps I just wanted a little reassurance!

Dunno if it makes all that time you've spent seem any more worthwhile, but I've got to say that I'm feeling quite spry thanks to you and your book. I've got quite a bit less ache in my lumbar, and my bum (pardon the phrase) isn't nearly as sore. The old ache in my right knee's letting up, too.

I'm, honestly, in a bit of a state of disbelief. I thought I was just going to be in pain forever and that was it, you know? After 3 weeks to feel this good seems a bit of a miracle.

[2 months later...]


Did I ever have AS? Honestly, I'm not sure at this point. It seems like some strange, hazy memory now. The only remnants I can find are that my hips are "crunchy" when moved in certain ways, but it doesn't hurt.

I've even taken up running again, something I'd given up with much anguish 6 years ago and thought I'd never come back to. Thanks for everything, Micah, most especially making this information available and easy to understand. It's truly been a blessing.

Warmest Regards,
Geoffrey Nail
Micah, your book has been a blessing. I know you already know it works, but I just had to write you to tell you that you have changed my life and to tell you my story…


I stopped eating [offending food] two months ago today. At first I was very frustrated and almost quit the diet because I thought I would see instant change, but then I remembered that you say that it's different for everyone and some people get better right away and others take a little while.


Well, for me it was like a light switch got flipped around week 3. I just remember waking up one morning and starting to go through my stretch routine, and when I started to do "Downward Dog" (the yoga pose) I couldn't believe it! Just the day before I couldn't even get halfway down without my lower back being on fire and all of the sudden I could just drop right into it no problem!


Over the next few days it felt like…how do I say this? Ok, if my pain was a fire, then someone poured a big bucket of water on it and just put it out. There were some embers for a while, but now they are going out, too!

Overall I just feel amazing and I can't believe how it happened. Thank you for giving me my life back.


All the best,
Adrianna Kutikov
So... what would I have given for this information? What would it have been worth?
At least a few thousand dollars, probably more — that's quite a bit less than I've spent on drugs, travel to see doctors, doctor's visits, x-rays, supplements, MRIs, and physical therapy, not to mention lost hours at work and the physical and emotional anguish.


I want you to have what I didn't: a simple, quick answer to your pain that's completely affordable so you don't have to suffer anymore.

Ask yourself:
What is my time worth to me?


How long will it take me to find this information?


How much damage will my body inflict on itself while I find it?


How much pain will I have to endure while I find it?


How many doctor's visits and tests will I have to spend money on in the meantime?
You're probably willing to spend a lot to feel better. I know I was. So I've probably underpriced my book, but I want it to be accessible to everyone.
My book (plus cookbook, bonus videos & audio book) are only $79, delivered INSTANTLY by email OR shipped anywhere in the world.
Order Now and in just minutes you can have the book, cookbook, videos, & audiobook that've already helped hundreds of others live a pain free life.
Just choose your preferred delivery method and click "ADD TO CART" above
(This is literally HUNDREDS and HUNDREDS of hours of my research condensed and packaged in an easy to use and understand format, and it could change your life).
You can begin healing RIGHT NOW. The very second you complete this transaction, you've begun your journey to recovery.

You can escape the "pain prison" without drugs, without surgery, without expensive testing or procedures — just by changing what you eat…and you can do it for less than what you'll probably spend on doctors and medicine this month alone.
MY PROMISE: If you don't feel better,
I'll give you 300% of your money back.

What's more important to me than anything is that you actually GET BETTER. There's nothing more deplorable than abusing the trust of someone that's in pain to make a quick buck.

I won't do that under any circumstances. You have my word. Because the truth is, no one can promise that ANY treatment for this condition will work 100% of the time.

Even still, I'm so sure that my diet and Ankylosing Spondylitis book will make a huge impact for you that if you don't get the results you want, I'll give you 300% of your money back.

Just send me an e-mail, and you'll get a refund PLUS an ADDITIONAL 200%, no questions asked. You get to keep the books, videos, and audiobook, too.

And this isn't just the usual "30 day" guarantee — you get 90 days to decide. You see, I want you to have ALL the time in the world to read the book, test the ideas, to give your body time to heal — even though I know you'll begin to feel better right away!
So, do me a favor, please…

Ask yourself: What do I have to lose?

We both know the answer: NOTHING! But you have everything to gain. I mean, even if you think my book sucks, at least you made some money, right? Just promise you won't scam me, ok? ;)

So, are you ready for a new, pain-free life? Are you ready to take back the freedom that's been stolen from you? Are you ready to LIVE again? Let's do it together, today, right now.
Just choose your preferred delivery method and click "ADD TO CART" below.
Order Now and in just minutes you can have the book, cookbook, videos, & audiobook that've already helped hundreds of others live a pain free life.
And there's one more thing I forgot to mention.

I know what it's like to have questions, to need support. So for a full 6 months after you've purchased the book I'll answer (via email) any questions you have about the diet and making it work for you.


(Please remember that I can only relate my experience and opinion and that this isn't a substitute for medical advice from an expert — but it will help).


I wish you all the best on your journey to health, wherever that may take you.

Yours in health,
Micah D. Cranman

P.S. Still not sure? Don't take my word for it. Just take a look at what previous readers of the book say about how great they feel, about how their lives have changed for the better.
The worst part of AS for me was that I couldn't pick up my kids. I know you're young so you probably don't have kids, so that might sound kind of stupid, but I have a four year old daughter and two year old son and they are what makes my day melt away when I come home from work and they run up to me screaming DADDY!! and I scoop them up in my arms and they give me a kiss on the cheek.


About a year ago the pain in my back started to get so bad that I couldn't pick them up anymore. I remember the first time I didn't reach down to pick them up because I just couldn't and Abigail, my daughter, started crying because she thought I didn't want to or I was mad, and it broke my heart.


Well, sorry to be such a sap, but as of today I was able to pick them both up without hurting (GOD they got heavy!) for the first time in a long time. I know it's silly that this is what I think of all things to write but anyway I just wanted to say thanks for making that possible.


- George Thurman
Many thanks for providing exactly what I wanted — some real answers! Since I was diagnosed around 2 years ago, I had been so frustrated with my doctors and their complete and total inability to explain WHY my body was doing what it was doing. They just kept saying it was a "malfunction," but the whole time that just felt like their way of explaining away the question.

I'm an analytical person, and I was incredibly frustrated by this answer. From my perspective, it only seems logical that the body does everything it does for a reason, and usually a good one. I just knew there had to be an explanation for why my body was causing me so much pain, a strange logic behind it.

Well, your book gave me just that: the answers I wanted. But more importantly, it gave me the tools I needed to solve the underlying problems that were causing my AS.

Today, I'm a new man because of the information you've taught me and the implementation of the diet and strategies you outline. I can't begin to thank you enough for giving me back my peace of mind and my health.


Yours truly,
Robert McCulloch
Micah, Micah, Micah…


You did it, buddy! You freakin' cured me!!! :D


Ok, ok, I know there's no such thing as a cure, but damn does this feel like it, dude. I haven't felt this good in a LOOOOOOOONG time. Your no [offending food] diet is spot on, bro. I started feeling the difference right away and full relief came probably 4-5 weeks in.


Pretty incredible to me that what we eat can have such insane and devastating consequences…and that this information isn't more widely available or mainstream in the medical community. Bah, stupid Big Medicine! Thank God for the internet! Anyway, just wanted to let you know I'm doing great thanks you and that I couldn't appreciate it more. You're my hero, buddy! :D


Pain free and loving it,

Julian Segars
I've got to be honest. I thought your book would be total B.S. when I bought it and was NOT expecting any results just from eating different but I got it anyway because I was at wits end and something had to change for me or I was gonna lose my job and be dead broke in addition to tons of pain. I was desperate and willing to try anything. Seriously, I probably would have smoked crack if I thought it would help.


So anyway first couple days nothing at all and I'm thinking that you totally scammed me and i was gonna get you back with your little guarantee when it didn't work but I kept at it and started to feel better after like 5 days. By day 9 all the pain was gone.


I'm like "WTF was going on all this time with these shitty medicines I'm taking" and I actually started to get really, really pissed the f*ck off at my doctors for not telling me about this cause its so damn obvious now and so easy.


Now I have a new doc who supports your ideas and things are going awesome and i feel like I used to before AS. Thank you so much man.


Sincerely,
Cole Hardy
Frequently Asked Questions
I am a vegetarian / vegan. Can I still use your diet?
For most vegetarians, the diet found in my book can be followed, though it's more difficult than if you're an omnivore like me!


For vegans, the same isn't true. That's because the diet is based largely around an entirely different approach to food than seen in "normal" western society, including veganism. To be honest, it's not compatible with being vegan, but I think it's still worth it for you to purchase the book if you're vegan for a few reasons:


1. The new perspective on the disease process will help you understand how your eating choices affect your pain, and with this new knowledge, you may decide that being vegan isn't appropriate if you want to become healthier.


2. Even if you decide to stick with being vegan for moral reasons (commendable and a choice I respect), there is TONS of other information in the book you can put to good use that will help you heal and make your condition more manageable. It's not just diet found in the book — it's everything else, too.


3. If it doesn't help, let me know, and I'll give you your money back plus 200% more for wasting your time. I just want the readers of my book to get well as I have.
Is your diet the elimination of nightshades?
I have a gastrointestinal disease (Crohn's Disease, Ulcerative Colitis, IBS, etc.) Can I still use your book and diet?
You may not know that many people with Ankylosing Spondylitis also suffer from a gastrointestinal disorder. I talk more about this in my book, and why the two can be related, and how your gastrointestinal health is actually an important part of healing A.S.


So, in short, yes, absolutely! The specifics of how you use the book is up to you and your doctor, but I believe much of the information found in my book is relevant for the treatment of not just Ankylosing Spondylitis, but also gastrointestinal disorders. You'll get even MORE value out of the book if you have one of these conditions!

But as always, check with your doctor first to get their approval with ANY major change.
I have permanent fusion / damage. Can the information in your book repair that damage?
Unfortunately, no. Damage to joints caused by Ankylosing Spondylitis is permanent and can't be repaired by changes in diet. Even if all inflammation is eliminated from your body, the damage will remain and if it's the source of some pain for you, will continue to cause that pain. However, the information in my book will help you eliminate pain that results from inflammation — or 3x your money back.
How is your book delivered? When will I receive it after I order?
You have two choices for how the book is delivered.
$79 – Digital Email Delivery. I'll send a digital version of the book, cookbook, audiobook and videos right to your email in 1 day. You won't receive a printed copy. This is the best option if you want to receive your book as quickly as possible to start healing.


$79 + $10 Worldwide Shipping – Physical Book / DVD Delivery. Choose this option, and I'll send you a physical book + cookbook and a real DVD, plus audiobook by email. Delivery takes 1-3 weeks anywhere in the world. This is the best option if you want a hard copy to give as a gift or if you just prefer "the real thing." It's the same price, but there's an additional $10 to ship the book + DVD no matter where you live.
What are your credentials?
I'm not a doctor, nurse, dietician, or any other sort of health care practitioner. But I have Ankylosing Spondylitis. Why is that important?


Because I've always maintained a very healthy and active lifestyle, when I was diagnosed with AS, I was devastated. I decided, then and there in the doctor's office, that their prognosis (unending pain and progression of the disease) was completely and totally unacceptable, and I made it my personal mission over the next several months after my diagnosis to find a way to live free of this terrible disease.


I'm a voracious reader and learner, and I absolutely devoured (over thousands of hours) everything there is to know about the condition. And then I applied it to my own body to see what worked and what didn't and found a real solution.
Because of this intense learning and my own experiences, I believe I know more than most doctors do about AS.
Why hasn't my doctor told me that diet can help my AS?
Doctors depend on scientific data and studies, and that's a good thing.

Unfortunately, because pharmaceutical firms are often the sponsors of the studies doctors use to suggest treatment options, studies that won't yield a monetary benefit to a pharmaceutical company usually can't raise the required funding.

And if there are only a few "controlled" studies to support a theory (even if plenty of evidence outside of those "controlled" studies supports it), then a doctor may not be exposed to the information. And if they have been, for liability reasons a doctor usually won't suggest anything besides the "accepted" treatment options for a certain condition.

For most doctors, a malpractice suit is so scary that they almost HAVE to stick to the "norm."
How hard is the diet to follow?
From a practical standpoint, the diet is fairly easy to follow. I have yet to find a restaurant where I couldn't find something to eat, and because of a simple test you can do anywhere, you can always tell if something meets your dietary restrictions even if you don't know what it is.


The hard part is that as people we use food for comfort and as a way to bond. The role food plays in your life and relationships — and the kind of food you normally eat — will have an impact on how easy it is to follow the diet.


For me, at first it was hard because I had to give up certain "comfort" foods. But once I learned how to find or make alternatives, I found there was very little that I truly missed. There's a learning curve, but the relief from incredible pain and discomfort is worth it.
Does the diet work for everyone?
The simple answer is that it works for the VAST majority of people.


But that's a difficult question to answer and it depends on a lot of factors.

Theoretically, it should. But some people may be misdiagnosed with AS, and the diet may not work for them. For others, their disease may have progressed to a degree that while the diet may help, it may not provide 100% relief.


That's part of the reason why I offer a 100% 3x money back guarantee with my book. I know what it's like to have massive medical bills. If the book and diet doesn't work for you, I don't want you to have to come out of pocket like you did for everything else that didn't work.
How long will the diet take to start working?
That really depends on a lot of factors. For many people, the diet works in just 6 weeks like it did for me. But that's in part because of my early diagnosis and overall state of good health. How long the diet takes to work for you will depend, and there's just no hard and fast answer to this question.


That's why the 100% pain free guarantee I offer is also for 90 days: even though most people will begin to feel better right away, some people have long-standing AS that takes longer to begin to heal.
Is the diet healthy and safe?
Yes, absolutely! In fact, in my opinion, it's healthier and safer than your "normal" diet because it's more in line with the fundamental dietary needs of humans. You'll keep eating all the important food types that deliver the nutrients you need to be healthy and fit and eliminate food that's bad for you in every way, including your AS.


And, as an added bonus, almost everyone on this diet loses weight and keeps it off forever!

But, as always, if you have specific health conditions, are pregnant, etc. please be sure to check with your doctor first.
Can I still continue my other treatment options while on the diet?
Yes, you can. The diet doesn't interfere with any other AS treatment plan. It will only make them more effective. That said, you may decide based on some information you'll learn in the book that your current treatment plan may not be helping and that you can heal more effectively without it. That's a choice you can make once you have all the facts.


What's even better, though, is that many readers find they feel so good on the diet they don't need any other treatment.
How do you know it's the diet that put you into remission and not something else?
I've tested it. After it started working and I began to feel normal and healthy, I thought the exact same thing: "Is it really the diet?"


So, in moments of weakness where my willpower gave out and I just HAD to have something, I ate the offending foods in modest quantities "to see what would happen." Lo and behold, the pain and stiffness is always back within 48 hours every time I slip up this way.


Many of my readers have relayed the similar experiences, too.
More questions? Contact me!
Order Now and in just minutes you can have the book, cookbook, videos, & audiobook that've already helped hundreds of others live a pain free life.